Articles
Empowering advisers and wealth managers to deliver profitable services to mass affluent clients, using digital risk profiling and wealth planning
Distribution Technology (DT), the UK's leading provider of risk profiling, financial planning and front office technology, is pleased to announce that it has launched a white paper and a new apps-based customer service for advisers using Dynamic Planner.
The white paper 'Digital Wealth Planning Arrives' examines the challenges facing advisers who want to offer a profita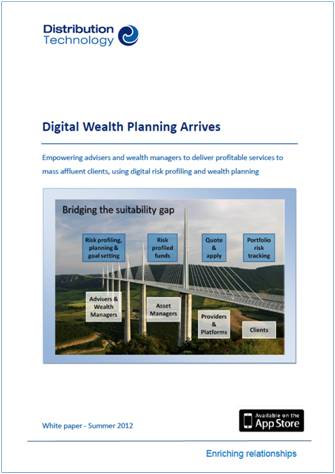 ble service to their mass affluent clients. Resolving this requires the industry to adopt a collaborative and integrated approach to bridge the suitability advice gap across platforms, providers, asset managers and advisers.
The new My Planning apps offer a welcome and affordable solution to this challenge. They allow advisers to deliver a profitable service that monitors funds, products and portfolios against the advice given and in return, charge an on-going advice fee. As a result, advisers and wealth managers now have the ability to provide profitable, on-going digital portfolio valuation and tracking services to their mass affluent clients.
When used in conjunction with a DT risk profiled fund, the adviser can ensure that the client remains 'on track' with the advice they gave and that the investment remains suitable from a risk perspective.
How does the app work?
After setting a risk level in Dynamic Planner, the adviser simply ticks a box which sends an email to their client providing access to the app including:
A personal balance sheet and cash flow breakdown

Investment and retirement portfolios, updated with the latest prices

Risk tracking at portfolio and individual fund level

Details of the client's other financial arrangements

Secure documents 'published' to the client by their adviser

The ability for the client to send secure messages to their adviser

The iPad app is available to download free from Apple's App Store from 21st June but requires the adviser to activate a Customer Access Licence (CAL) for each customer.
Ben Goss, CEO of Distribution Technology, says: "We have developed the My Planning apps in response to requests from clients over the last 18 months, to help them deliver low-cost digital servicing capabilities ahead of RDR. It has become clear that after they complete their segmentation, many firms are deciding that they cannot continue to service the majority of their client bank, especially those with less than £100,000 invested. My Planning apps changes that for them."
A copy of the white paper and screen shots are available on request from Shelley Robertson, Marketing Manager on 0118 903 5850 or at shelleyrobertson@distribution-technology.com.
Please share this page to LinkedIn
Please click here to retweet this on Twitter
Author: LifeTalk Admin (Bella)
Posted: Wednesday, June 27, 2012 | 3:57:29 PM